Country of release : Indonesia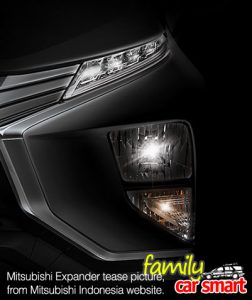 Make : Mitsubishi
Model : Xpander (previously rumored as Expander)
Current Model : None (Total New)
Type : MPV
Seating capacity : 7 (seven), 3 row seating
Drive configuration : FF (front engine, front wheel drive)
Engine type : 1.5 liter gasoline (no diesel announced yet)
Transmission : 5 sp manual / 4 sp auto
Price : IDR 186 million – IDR 236 million (USD 13,984 – USD 17,744) (approximately), for Indonesian market, Jakarta price list.
Release chronology
Mitsubishi Motors Indonesia finally exposed its latest small MPV, the Mitsubishi Xpander, at Fairmont Hotel, Jakarta, Indonesia, on July 24, 2017. The Xpander is a new MPV manufactured in Indonesia and aimed at the Indonesian market and other similar markets.
It has been announced and exhibited as Mitsubishi XM concept car since Indonesia's GIIAS (Indonesian Auto Show) year 2016. This GIIAS 2017 (that runs on August 10-20) will present the real car inside out. As fro the July 24 exposition, it was not allowed to get into the car, visitors can only take pictures of the exterior, and interior from outside the car.
Competition
The main competitors, price wise, are (certainly) Toyota Avanza and Daihatsu Xenia (both are siblings), Suzuki Ertiga, Nissan Livina, Honda Mobilio, and a Chinese brand name, Wuling Confero.
These cars will compete directly, as they are marketed at approximately the same price level of slightly below IDR 200 million to approximately IDR 250 million.
Xpander's offering price also overlaps that of Honda B-RV, Toyota Rush (and its sibling, Daihatsu Terios), and Toyota Sienta. So the prospective buyers of these models may also consider the Xpander.
The Avanza is still the best seller for years, holding current market share at 42 percent. The Xpander aims exactly at the Avanza's target market, with similar price range, and what hopefully to be better features equipment.
All these cars are 7 seaters, which serve the most prominent family car market in Indonesia, where the buyers love people movers. Among them, only Ertiga is offering a diesel, and only with a manual transmission.
The market leader, Toyota Avanza (and its sibling, Daihatsu Xenia) has rear wheel drive, rigid axle setup. Among its competitors, only Wuling Confero, Toyota Rush, and Daihatsu Terios offer the same setup. Front engine, rear drive configuration is considered more suitable and should last longer in coping with rough road condition, which isn't rarely found in Indonesia.
There isn't any official detailed information or brochure, printed, or digital released to the public yet. We will have to wait until GIIAS 2017 is opened. Only basic information is released, as written above.
However, the vehicle is know to be significantly longer than Avanza (not much longer than the also long Livina), so it is safe to bet that it will accommodate occupants well, especially for third row occupants, where legroom is usually scarce.
Will it sell?
Only time will tell. The market for the price range and vehicle type is quite enticing, but there are quite few players already in the field. With every competitor has its own unique offering, where most players now include free service cost for 50,000 km (which was initiated by Toyota), it could be tough for Xpander to gain market share. But who knows? The market is not exact. Mitsubishi factory can make 80,000 Xpanders per year. If Mitsubishi can lure buyer's perception into their product, it might sell at a good volume. The Indonesian
More details will follow later after the official release at GIIAS 2017. Just keep in touch with this article.