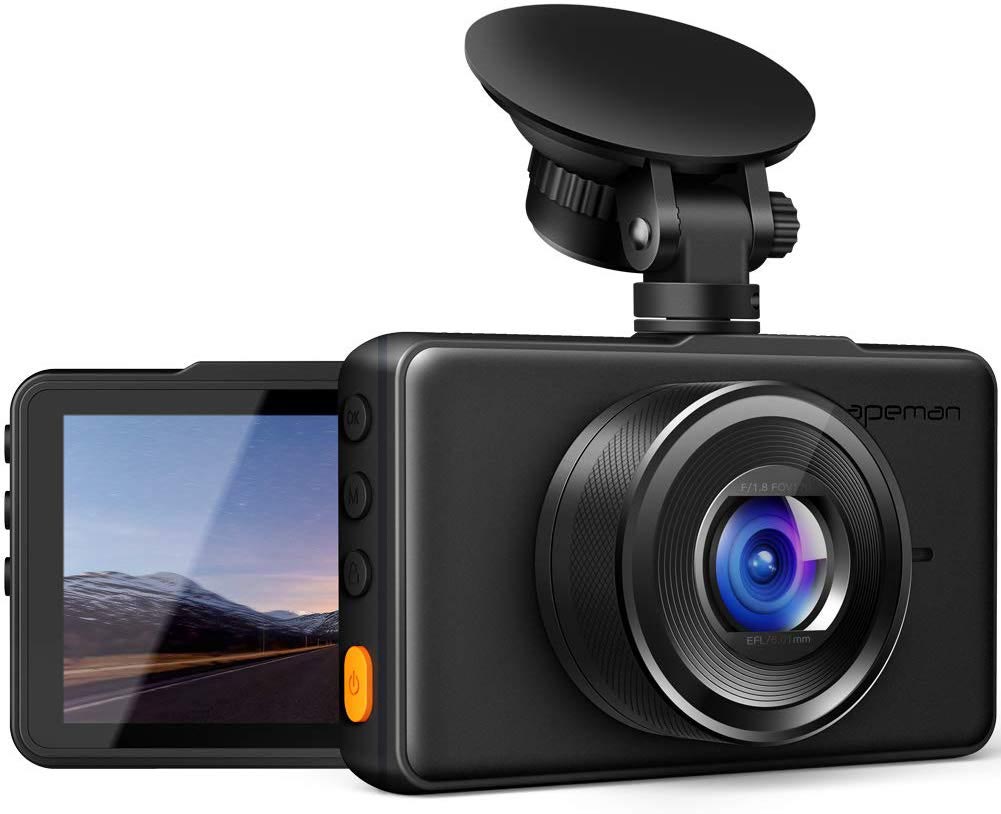 Summary
Product Name                   :   APEMAN Dash Cam 1080P FHD DVR Car Driving Recorder 3 Inch LCD Screen 170° Wide Angle, G-Sensor, WDR, Parking Monitor, Loop Recording, Motion Detection (yes, this is the name on Amazon.com)
Function                              :   Vehicle Dash Cam
Packaging                           :   Box
In the box                           :   Camera, mini USB cable, car power adapter + cable, suction cup, adhesive mount, manual
Price                                    :   USD 44.99
Where to get it                  :  ​ Amazon.com

Ease of installation           :   *** (simple, but requires dismantling some interior panels / wire  routing through car interior panels.)

Package Box Dimension  :   5 inch (12.5 cm) x 4 inches (10 cm) x 3.5 inches (9.5 cm)
Warranty                            :   1 (on) year
Quick recommendation   :   Fits those who are price conscious
Highs                                   :   Very affordable, lightweight, takes 128 GB card (as tested), adequate video quality day and night, auto rewrites (if replacement space is sufficient).
Downside                           :   Plasticky, manual and button arrangement not quite intuitive,
What's in this article
Product description and features
Price and where to get it
What's in the package
Look, construction, features
Installation
Menu operation
Some useful features
Result, fit and feel
Highs and lows
Comparison with another similar product
Tips and tricks
Summary and FAQ
Conclusion
Do we need this thing (what is it for)?
Commonly known as a dash cam, this device records videos of events (usually at the front of the car, where the vehicle heads to) from inside the car. Among the purposes are for proof of incidents, insurance evidence, or just for fun. Included in "fun" could be learning from what COULD happen on the road. OK, Youtube.
Some of us might just want to follow the trend. It's OK too, since the prices of such electronic devices are really low now.
Product description
Amazon's product displays the dashcam as " APEMAN Dash Cam 1080P FHD DVR Car Driving Recorder 3 Inch LCD Screen 170° Wide Angle, G-Sensor, WDR, Parking Monitor, Loop Recording, Motion Detection".
The Apeman manufacturer website refers it to Apeman C450A dash camera. Well, we'll take it as a dash cam with some interesting features.
The features according to the manufacturer
1080P FULL HD recording
170° SUPER WIDE ANGLE
BUILT IN G-SENSOR (to lock a recorded video when impact is detected)
SUPER NIGHT VISION - F1.8 large aperture, WDR, HDR
EASY TO SET UP & USE
Parking guard starts recording if impact is detected during park
Recommends 32 GB card
Other undocumented  features as tested:
The camera has built-in battery, but it can only last for 20 minutes when not connected to car 12V port.
The parking guard mode requires the 12V port to always be powered.
Screen saver can turn of screen after 1 or 3 minutes  (while recording continues). Can be set to off (screen always on).
Can register a car ID (in the menu titled: Car Number). Car ID can be imposed on the video.
Records up to 1080P Full HD (1920 by 1080 resolution) videos at 30 FPS.
Tested with 128 GB card and it worked fine.
Records looping videos in 1, 3, and 5 minute lengths (overwrites earlier videos when card is full).
Records non-looping videos in 30 minute length (does not overwrite, recording stops when card is full). Stated as 'OFF' in the Loop Recording menu.
Starts recording automatically when its power adapter is powered.
The camera turns off when car charger port loses power.
Can be set to auto power-off (in 1 or 3 minutes) when detecting no movement.
The 170° super wide angle lens provides wide view of things ahead, but it produces some noticeable barreling on slim roads /close  environment.
Some careful routing of the wire is required. Removing panels may be needed.
Maneuvering the menu and buttons require some learning and dexterity. And always remember that the OK button is the top right button.
Price and where to get it
It is available from Amazon. The price is USD 44.99. There are also  other versions, which among else include:
- HD1080, Dual camera (front and back) 
- Dual camera 4K, with GPS, Wi-Fi, Sony Sensor 
What's in the package
The product came in a nice box that gave impression that a quality, luxurious product is inside. The manufacturer sure has done a very good job in preparing presentation of the product.
What do we get? Here they are.
What is in the box? The camera itself, a car charger with 2-meter USB wire (and one extra USB port), a short mini USB cable, a camera holder with suction cup, a glass mount, a manual and welcome card.
No memory card is provided (the manufacturer suggests 32 GB maximum, we'll see about it later).
Look, construction, functional features
The camera body is made of plastic. The mount slot is at the top, as also the mini-USB port. The control buttons are on the left and right sides of the camera. The screen is of low resolution and there are two small indicator lights on the left of the screen. When turned on, the screen shows some icons about camera's status.
Here are some views of the camera from the front top, rear bottom, left and right sides.

The camera's look is simple and clean. The only button that distinguishes itself is the orange power button (on the lower right, when viewed from the back of the camera). Button placement is a bit awkward. The 'OK' button is at the top of three buttons instead of the middle.
While the clean construction looks quite sturdy, it is very lightweight, and the plastic does not give much impression of durability. Available buttons are quite tactile, with clear indications of clicks.
The 3 inch display is small and has low resolution (see picture). Compare it to what it shows on Apeman's website.
actual screen
Installation
Much of installation deals with wire routing in the vehicle.
The camera is very light and quite small (3.5 inch length x 2 inch height), thus it will not obstruct much of sight. It can be mounted behind the rearview mirror and is barely noticeable (this placement could interfere with controlling the camera buttons).
Useful features:
- Locking file at the touch of the lock button (bottom right button) to prevent overwriting
- Auto start recording (starts recording automatically when camera is powered)
-Can create car ID to impose on the video
Menu structure:
Navigating the menu requires some learning and getting used to since it is not quite intuitive. It will take some time to really be familiar with the button operations (and remember, the OK button is the top right one, not the center). Thus, fiddling with menu options is best done at  home with sufficient time available.
Each press of mode button (right center)  takes into one of the three modes: recording, camera, and preview.
Then pressing the menu button (left center) brings up the mode's respective menu.
At this position, the menu button (left center) or mode button (right center) toggles the options in each mode.
The overall menu is as follows:
the full menu
It is easy to note that each menu has the tool options (general options).
Menu operation
The main button is the MODE button (right center, when looking at camera screen). This button takes the user to one of the 3 modes:
Some of menu selections that could be set before starting recording:
Under Tools Menu (General Options):
- Setting date and time
- Auto power off (turns off when not detecting movement in 1 or 3 minutes, or OFF).
- Language (11 selections available)
- Screensaver (turns off screen while CONTINUING recording after 1 or 3 minutes, or OFF).
- Car Number (setting a car ID, imposed on video when set to ON. Inputting the ID is made at ON selection).
- Resolution (VGA, 720P, 1080P)
- Date stamp (imposing record date on the video)
- Format (formatting the car. It is recommended to format the card in the camera).
- Recording lengths: looping 1, 3, or 5 minutes; or OFF (non-looping 30 minutes lengths. At this position, recording stops when card is full).
- Wide Dynamic Range On /OFF. Helps to get a good balance between harsh light and dark parts of the surrounding. In reality, the dynamic range does not help much. It does not differ much when ON or OFF (the results are quite satisfactory though).
Preparing for recording
A micro SD card is required (the manufacturer suggests 32 GB, we tested 128 TB and was OK). Once the camera is turned on, it starts recording videos automatically.
Right of the factory (default) setup, the setting is 3 minute video, 720DPI, which produces
Navigating through the menu allows selection between VGA, 720P, and 1080P resolution.
Card capacity should be of consideration when recording at high resolution. See video file size below.
Some notes:
Overwriting
Overwriting is only possible when enough space is available for the coming data. If the overwritten data plus remaining space is insufficient, the camera stops recording.
For example: The initial videos are at 1 minute length (or lower resolution). Then the camera is set at 5 minute length (or higher resolution). At the end of memory space, the camera will create a file container for 5-minute, higher resolution file. If the file to overwrite plus remaining space are insufficient, recording stops.
Video file size
The 1920x1080 resolution will produce 660 MB per 5-minute, 3.96 GB per 30-minute recording. A 32 GB micro SD will last at about only 48 minutes (1080P videos). Again, we tested with 128 GB card and it worked fine. The camera can record up to full capacity and overwrote the earlier files as per the set requirements. The following table shows card capacity, total recordable files, and length at 1080P video resolution.
​
Recording indicator
The camera shows to indicators: red blinking dot on the screen (disappears when screen turns off on screen saving), and a blue led on bottom left (almost invisible on daylight).
Recording quality
Video details
The produced videos have quite good details, if not stellar, both for day and night conditions. This is  in a sense that the recorded video can be used as evidence or examination material should anything significant happens.
They are not too pleasing since color is a bit dull and contrast is low during day time. Night time records are better.
The wide dynamic range seems quite useful in handling difficult lighting conditions.
Geometry
The camera recorded in wide angle, which was useful to get a view of what happens at the front of the camera. However, on close distance and narrow road, some barreling is visible.
Color
The produced color is a bit dull. While the contrast is quite good on night recording, day videos seemed to lack contrast. On both times, the camera was able to prevent bad result due to harsh light.
Still picture quality
Likewise the video counterpart, the still picture lacks some contrast. However, details are still easily recognized. It is not a camera for putting something on Instagram for instance, since color is less than pleasing.
How is the real result look (real video from the camera)
Here are a video sample showing results the camera took during daylight, night time, heavy rain, on highways from the camera.
Finally, here's a conclusion about the camera 
The Apeman C450A is a decent camera for the budget conscious. It is very affordable. The camera is easy to operate (it starts automatically). Some learning and patience are required to get familiar with the camera menus, buttons, and options. A 128 GB card recommended. Produced videos are decent, without blinding lights from light sources. Night time records are better than average, providing good contrast and clarity. For a first-time dash cam user, this camera is worth a try for its price.
Appreciated:
Lightweight
Easy to operate at default setting
Satisfactory result
Takes 128 GB card (as tested)
Downsides:
Careful wire routing and removal of panels are required for neat installation.
Blue blinking recording indicator instead of the normal red, invisible on bright days.
Non-intuitive button and menu arrangement.
Overwriting should only be expected when recording on one video resolution  and length.
Cable transfer is very slow (on my computer, it took 7 minutes to transfer one 30-minute, 1080HD video from the camera).
Tips:
The camera port is at the top. Make sure to plug the wire first before attaching the camera to its mount, since it will be difficult to see the port after mounting.
The camera lens is a bit off center on the body. If a car center position recording is required, mounting position should consider where the lens would end up.
A 128 GB card is recommended. We didn't test for larger card, but surely the recommended 32 GB can be exceeded.
Everyone's needs differ. If you think this camera suits your need, you can get one here. You can also see other buyer's reviews and comments about the Apeman C450A on the website.
Thank you for visiting this site. We hope the information is useful for the readers. Don't hesitate to leave comments or questions if you feel like so, or email us at  info@familycarsmart.com.