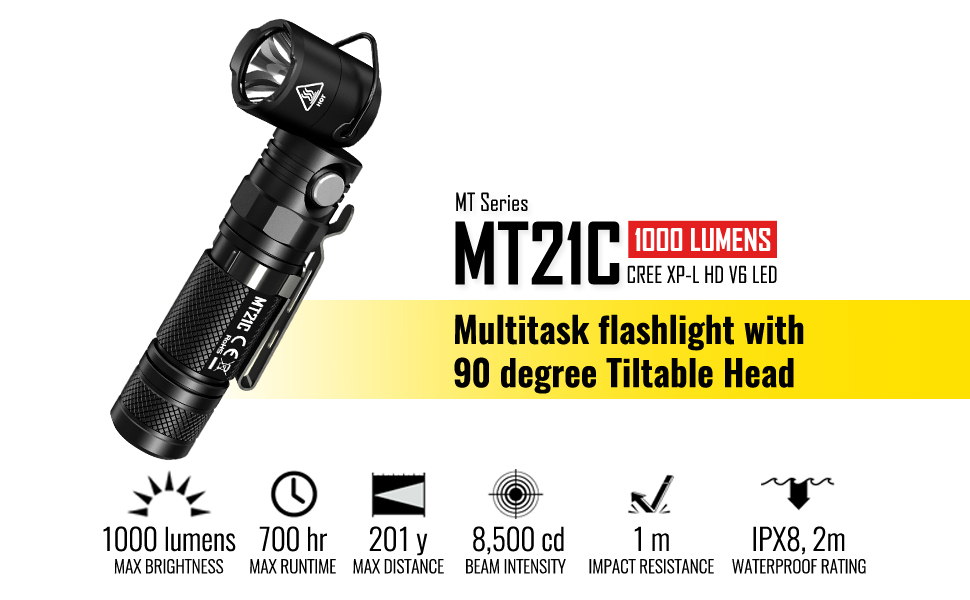 Summary
Product Name : Nitecore MT21C, 1000 lm Multifunctional 90 Degree Adjustable Flashlight, Black
Function : multifunctional, tilt head flashlight
Packaging :box
In the box : flashlight, lanyard, clip, two spare O-rings, holster
Price : USD 59.95
Where to get it : amazon.com 
Special features: tilt head, magnetic base, built-in battery indicator, metal hang loop
Maximum throw: 201 yards (184 meters)
Maximum output: 1000 lumens
Number of brightnesslevels: 5
Modes: 3 (strobe, SOS, beacon)
Package box dimension : 7 in (17.7 cm) x 4 inches (10.2 cm) x 1.25 in (3,2 cm)
Package weight : 0.48 lb (0.22 kg)
1000 Lumen max output with 201 yards of throw
90-degree tiltable head for switching between straight or angled use
Single push button switch for easy control of 5 brightness levels and 3 special modes
Powered by 1x 18650 or 2x CR123A batteries
Compact and lightweight body: measures 5.16 inch and weighs 3.65oz without battery


Flashlight specification according to manufacturer
Max Output : 1000 Lumens
Max Beam Distance : 184 m
Max Beam Intensity : 8,500 cd
Max Runtime : 700 hours 0 minutes / 29.16 days
LED : CREE XP-L HD V6
Battery : 18650 (flat or button top), 2 x CR123, 2 x RCR123
Special Modes : SOS, strobe, beacon
Beam color : White light (rather yellowish)
Length : 131 mm / 5.15 in
Head Size : 25.4 mm / 1 in
Weight : 103.5 g / 3.65 oz.
Warranty : 5 (five) years (may vary by countries /sellers)
Quick recommendation : A versatile, multipurpose flashlight for everyday use indoor and outdoor

Highs

: front button position, tilt head, hang metal loop, magnetic base, lightweight, waterproof (IPX8), battery indicator, 5-head tilt lock positions

Downside

: no memory function, no direct way from special modes to constant brightness levels, 90 degree max head tilt (cannot face down in standing position)


LED flashlight for everyday use
We've reviewed the Nitecore MH40GTR (see review
here
), one of long range flashlights available in the market. We found out that it was a solid investment for those with farms or a vast area of land, but it was too large and heavy for everyday use. A smaller, multi purpose flashlight could fit better in casual activities, indoor and outdoor.
Multi task flashlight is a category Nitecore defined for its multi-functional flashlights (coded MT type). These are multi-functional flashlights that are very useful for just about every activity. While they are not designed to give best performance for a specific task, they should cover any general use quit well.
Nitecore MT21C, brief description
The MT21C is a multi-functional type of flashlight. Versatility is its main feature. The two main features are tilt head and magnetic base that should be give an advantage when other flashlights could not. It is powered by a single 18650 battery or 2 x CR123 or RCR123 batteries.

The beam is of flood type (see picture ). It does not spread light evenly, but the center point brightness it not a focused one. Beaming it a little farther away and it can distribute a path side to side.

Price and where to get it
You can get yours at here at amazon. It is sold at approximately USD 59.95 (price may vary according to additional accessories).

What's in the box
The box dimension is 7 in (17.7 cm) x 4 inches (10.2 cm) x 1.25 in (3.2 cm) with weight of 0.48 lb (0.22 kg). However, Nitecore has the habit to use only a formed thin plastic to accommodate the flashlight and its accessories in the box. Repackaging, when required, must be done carefully.
The items in the box were: the flashlight itself, a clip, a lanyard, two spare O-rings, one holster, a manual,  and a warranty card, 
Look, specification, features

Dimension and weight
The flashlight dimension is 131mm (5.16 inch) length with 25.4 mm (1 inch) head diameter. The body is very slim due to the fact that it can accommodate only 18650 or CR123 diameter batteries. No 21500 (or similar diameter) batteries can be used.
The body is made of aluminium, painted black.

During use, it was a pleasure to hold. It was very easy to slip it into just any pocket after use. Some people with rather large hands may find it a bit too small.


Tilt head
The tilt head allows flashlight forward lighting hands-free when clipped to chest pocket. The tilt mechanism is of ball-detent type and has 5 positions (4 steps).
A holster is included with the package even though it would probably find rare use.

The tilt head proved useful, especially when put into a vest or jacket chest pocket. It helped free the hands to do other things. However, the tilt was limited to 90 degrees, so it could not light up path down when tucked into a person's body. And with the ball-detent system, I'd hope that it would not wear out quickly.


Magnetic base
The magnetic base was very useful where two hands were needed. Hands-free, the magnet can hold the flashlight even at horizontal position. Together with the tilt head, the flashlight was really helpful where light was needed. For firm attachment of the magnet, the flashlight should be attached to a smooth flat metal, especially for mounting in horizontal direction. However, horizontal mounting position was much more much prone to falling due to flashlight weight. I would recommend to avoid it.
This versatility reminded me of the old Snakelight of the 1990s.

The magnet is quite powerful that when the end cap was opened at upward direction, it pulled the battery along.
Hang metal loop
There is a hang metal loop clipped to the head of the flashlight. It is designed to hang the flashlight when possible, or when the magnet base cannot find its mate. Unfortunately, the points where the hang loop is attached to the flashlight head are in line with the pivot line of the head, which is not at the axis of flashlight's center of gravity line. Thus when the flashlight is hung, the flashlight tends to tilt a bit upward, which is made worse by the limited to 90 degree head tilt.
Hologram sticker
A hologram sticker is attached in the barrel, presumably to signify its authenticity. It says "genuine product" and some serial number (I was not sure, there was a number too at the flashlight head). I don't know if there is any such counterfeit Nitecore flashlight either, but Nitecore seems to play safe on this subject.
Power source and battery
The MT21C requires a single18650 or 4 x CR123 or RCR123 batteries. Unlike the MH40GTR, this flashlight can take flat or button top batteries. No batteries were included in the sales package. There is no "on-flashlight charging", It must be done on an external charger (no charger is included either). The 1000 lumens LED can exhaust the battery pretty quickly when used in turbo mode.

Nitecore warns that the rear cap must be loosened to completely prevent battery drain during storage. How does the flashlight do that? The painted aluminium threads (both at the body and rear cap) do not conduct electricity. Only the rear lip and the base of end cover are exposed metal. Thus electricity can only flow if these two met, which is when the rear cap is COMPLETELY tightened. So if the flashlight fails to work after inserting batteries, check whether the end cap has been tightened fully. The battery indicator will blink to show battery state if it is done correctly.

 How long does a battery last in the flashlight? I tested the flashlight in constant turbo level with 2 different 18650 batteries, and here are the result:
Note:
- Tests were done with the batteries fully charged, flashlight indicator showed 4.1 volts.
- During the test, the flashlight reduces brightness at times until it turns off.
- With the 2600 mAh battery, the flashlight died at 2.64 volt battery voltage, at 2.3 volt with the 3100 mAh.
* With the 3100 mAh, although the flashlight actually turned off after 7 hours, the flashlight LED and the indicator had been very dim and nearly invisible at 4 hours 0 minutes.


Battery indicator
A blue LED around the button serves as the battery indicator, indicating remaining battery voltage, which is accurate to 0.1 volt. One quick tap on the flashlight button during off state will flash the light to indicate battery condition.
The blue indicator also automatically tells when the battery power has reduced to half (blinking slowly) or requires charging (blinking fast).

I found this to be very useful. During the test above, even when the indicator has blinked fast, the flashlight still emitted light, although not at full power. Our test with 2600mAh battery shows that from the time the indicator started to blink slowly (1 hour 27 minutes), only 3 minutes later the flashlight started to reduce brightness. Reduction of brightness occurred gradually until the flashlight turned itself off after 3 hours 13 seconds, at voltage of 2.65 volts.
Automatic temperature regulation
The flashlight uses what Nitecore calls automatic temperature regulation. Nitecore provides no detailed information about how it works or what temperature setting is allowed. A warning symbol at the flashlight head warns user about temperature.
I found that the warning symbol was indeed necessary. After only about 2 minutes in turbo mode, the flashlight head became very hot, almost untouchable by hand. During the battery test, almost whole flashlight body became scorching hot. The small form factor, without any fins to disperse heat contributed to the high temperature. The tilt-head pivot created a narrower heat path to the body, reducing heat dissipating capability. further It is advisable to wear gloves if the flashlight use at highest setting for extended time.
Operation modes
There are 5 brightness levels available: ultra-low, low, medium, high, turbo and 3 special modes (strobe, beacon, SOS, in that order).
The strobe mode was really blinding with high frequency at the highest lumen (turbo) setting. The user (especially children) should be careful when using the flashlight in strobe mode.
The turbo level can be triggered for constant and momentary light up.
The operating sequence is quite easy to master, while it is not quite intuitive. The following table shows how it works.
There is no way to return to brightness level selection (constant beam) from special mode. And while one tapping once checks the battery and tap three times enters special modes from off state, tap twice does nothing.

The flashlight body is made of aluminum alloy. Built quality is good. The aluminium material has good resistance against the elements. Rear part of the body has corrugated skin, which should help grip.
The corrugated (Nitecore calls it knurling) skin didn't help much, since the flashlight was very lightweight anyway. 
Waterproofing
The flashlight is rated IPX8 for waterproofing. There are two rubber rings sealing the end cap, one at the thread on the body, and another one at the base of the end cap. For these, 2 (two) spare rings are included.
However, the flashlight has a mechanical connection (tilt head) and exposed button without external rubber cover. These would be doubtful for water submersion resistance. While I did not test waterproofing capability, I do expect the flashlight will resist water ingress. 
Reflector
The reflector sits in the standard 1 inch (2.54 cm) head size. It is very clean, well manufactured, and during use, did its job well to disperse light. However, the powerful LED and small size caused tremendous heat and high temperature that started to creep from the head. Only time will prove whether the reflector and lens will stand the test of produced heat. 

This flashlight is not designed for long throw, so its light beam is dispersed quite wide, although not necessarily too wide to be evenly dispersed. The dispersion is as in the following picture.

The light color was a bit yellowish, not a 6000K white light. Although Nitecore did not mention CRI value on its website on the MT21C, it was clear that the light was not as white as other white light Nitecore flashlights (see this picture). Light throw was clean without any blotch, dark, or bright spots.

As this flashlight is not of the long-range type, the beam is not concentrated at near center, while it is not totally flatly dispersed either. The following picture shows a difference between a totally flat beam (from a cheap flashlight) vs MT21C's beam dispersion. We can also see that the MT21C's yellowish light beam.


During use, the light distribution showed a rather wide "hot" area with some "weak" luminance around it. The bright center was just the right amount to light up paths, and to some degree, a little farther ahead.
Clip, lanyard, and holster
These three parts were included as standard.

The clip: it was quite useful, although some positioning was required since its end could interfere with the operation button.

The lanyard is a different story. I never got it attached to the flashlight, simply because there was nothing to attach it at. The end cap was a flat magnetic base without any lanyard hole. Maybe at the clip or metal loop?
The holster might rarely be used due to the small footprint which allows to tuck in the flashlight almost anywhere.
How the flashlight performs
Here are some samples of what the flashlight could do with its respective beam power. These sample photos were not from scientific test, but should give approximately what a user could expect from the flashlight.
Some are indoor pictures, some are taken outdoors. Here's what the flashlight can do.

The indoor photos were taken at the same aperture and speed.
The ultra-low setting allowed reading of the magazine comfortably, without straining eyes.
The low setting provided more brightness for the magazine, and started to be harsh on the eyes.

The third medium setting was too bright for reading (not photographed), while it was useful to search for things indoor and in close quarters. Tested on a bicycle, I also found that the medium was sufficient for night riding. It was not satisfyingly bright, but it should conserve power for a long journey.

The high setting was practical for exploring larger rooms, exploring outdoors, roads, especially descending paths. It was also nice for bicycle riding when more light was needed on dark roads, at the expense of shorter use time.
The highest turbo setting was more suitable for outdoor use. It could light up yards although at limited distance (see picture). For bicycle riding, it was not recommended since it would cause severe glare on traffic and discharged battery quickly.
Here's another sample of what the turbo setting could do around a house. (the far end gray wall is about 15 meters (45 feet away).
Here it is in turbo mode lighting up a tree (about 10 meters / 30 feet away). The next picture is trying to light up a pine tree (about 13 meters /behind the tree in the previous picture.
For around the house and car use, the tilt head an magnet base really helped to get light at positions where two free hands were really needed. However, a metal surface must be available nearby, and preferably, flat and clean. The user must also be careful when mounting the flashlight horizontally because it was prone to falling. Attention must be given vibration is suspected to occur.
For around car use, the flashlight would really be a big help. When two hands were required for work and there was no one to help lighting up the workplace, the magnetic base and tilt head proved to be really useful.
It could also serve as a reading light while sitting at the end of a car with the hatchback door opened.
All said, these two features (and at some point, the hang metal loop) improved the flashlight usability where others flashlights could not.
Conclusion
For anyone driving an MPV, keeping a multi-purpose tool in his or her pocket, this flashlight is an indispensable addition to the multipurpose, DIY, independent way of life. The tilt-head and magnetic base are really welcome features that greatly help to do things in the dark. Taking the flashlight outdoor, it can light up paths or objects not to far away sufficiently, getting the job done.
The 18650 battery quite common and easy to find, and the battery indicator will tell remaining battery condition. 
The small form factor easily slips into a pocket.
Even for those looking for a first LED headlight, this MT21C is a choice that they will not regret. It is also a very good choice for those intending to have only one flashlight. As a gift, it is a present the receiver will easily and gladly appreciate.

However, personal choice and preference vary. If you think this flashlight fits your needs, you can get it by clicking here.

Nevertheless, flashlights come in various sizes, shapes, features, for unique purposes.
There are other Nitecore products that are quite similar to the MT21C, without tilt head and magnetic base.:
- New P12  USD 89.95, with higher power, longer throw (1200 lumens max, runs on single 21700 or 18650 type battery, throw light to 234 meters /267 yards).
- The smaller and cheaper MT21A, USD 29, can do 260 lumens max, runs on 2 AA batteries.

If you need a much longer range, dual battery, albeit heavier flashlight, there is the MH40GTR (cited for 1004 meter throw, 2 battery flashlight). See the review here.

Thus, the summary for the MT21C:
Highs:
Affordable price among Nitecore flashlights
5-position tilt-head (4 steps)
Magnetic base 
Hang metal loop
Bright LED with good range for everyday use
Practical battery indicator
Lightweight
Compact size fits any storage or pocket
Instant access to turbo mode (2 seconds wait)
Takes single 18650 or 2xCR123 batteries
Front single button operation
Anti rolling design
IPX8 waterproof


Lows:
Does not remember last mode /brightness level used
Cannot return to constant beam mode from strobe, beacon, or SOS.
Yellowish light (personally, this is an advantage for me)
Gets really hot on turbo mode (may require gloves for extended use)
No lanyard hole at end cap
Things that Nitecore could improve on this flashlight:
A lanyard hole at the end cap
Better (shorter length) clip to avoid interference with flashlight button
Another notch on tilt angle setting so it can point a bit downward at full tilt
Better heat regulation and dissipation
My personal advice: If you had never had a tilt-head flashlight, get this. It's versatility cannot be denied. If you (or your kids /others) must have only one flashlight, this is the priority choice.
Thank you for visiting this site. We hope the information is useful for the readers. Don't hesitate to leave comments or questions if you feel like so, or email us at info@familycarsmart.com.
​