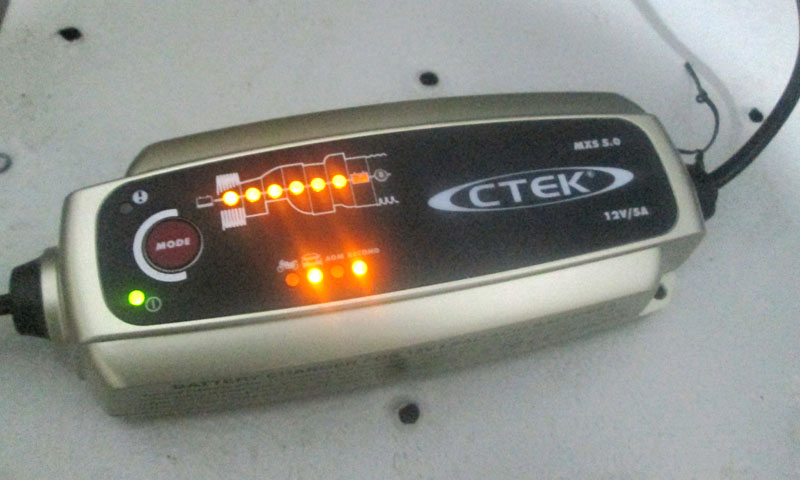 Product Name : CTEK MXS 5.0 with temperature compensation
Function : 12V Vehicle Battery Charger /Conditioner
Price : GBP 58
Where to get it : Amazon.co.uk (where I got it)
Ease of use : ***** (very easy)
Warranty : 5 years (vary by location)
What's in the Box : Charger, alligator clips, eyelet connector, manual, storage bag.
Quick recommendation : Recommended, you should keep this charger at home or in the car
This article follows up the previous article, CTEK MXS 5.0 Portable Car Battery Charger Review,  Part 1: Specification and Description.
Here we have the actual charger and will test it and see the result.
What's in the box
The charger came in a box with all the required accessories for use (see unboxing video).

Here is the actual charger that arrived.
What came in the package: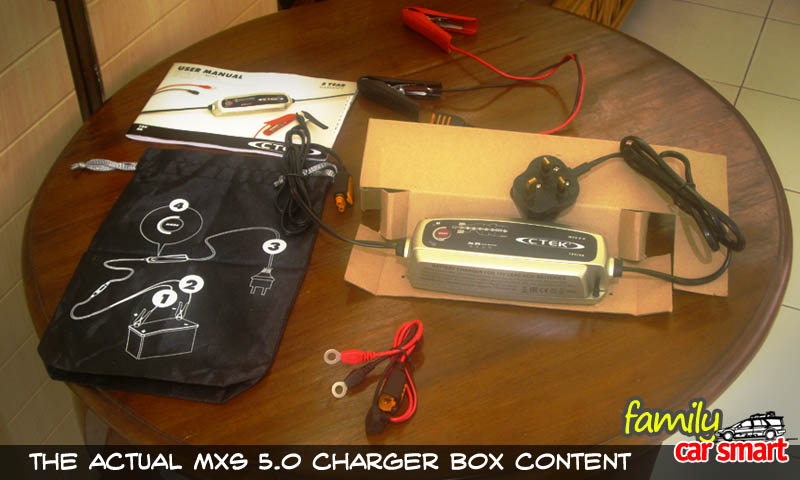 In the box: (1) the portable car battery charger with electric plug and wire connector, (2) a pair of alligator clips, (3) eyelet connector with protected wire connector (if preferred for use instead of the alligator clips), (4) a user manual, (5), a bag with easy instruction picture printed on it.
Preparation and actual test
Test setup
Battery to charge: a 32Ah 12 V battery that had been in a car for about 3 years 3 months (31,000 km). The car was a Toyota Avanza (F651, per Toyota naming code), with 4 cylinder 1,300 cc engine. The battery did not lose acid significantly during vehicle use, which suggested that it could hopefully accept charge. While the car odometer was quite low for a 3 year old battery, the battery voltage was already at low 12 volt, below the recommended minimum of 12.5V as the vehicle workshop manual. (For information on vehicle battery voltage, see here  or here ).
The car could still do daily starting. But after the car was left off for one week, the battery could no longer start the car.
Charging preparation
For car electronics safety during charging at higher voltage, the battery was removed from the vehicle. Battery vent caps remained closed during charging.
A video at the end of this article shows the charging setup, process, and result.
The charging setup
After the charger plug was installed on the electricity receptacle, the charger learned the charging setup. It immediately found that it was a normal size battery (not a small /motorcycle battery). The mode button must be pressed several times to select modes (which we did to include recondition mode, see video on charging setup and process).
The charging process
The charger lamps for step 1 (desuplhation), 2 (soft start) immediately lighted up, and soon followed by 3 (bulk charging), so I'd think the charger considered that no specific step 1 and 2 were necessary.
Only about one hour later, step 4 lamp lighted up. These can be seen in the video below.
We waited until step 7 was reached, that took approximately only 14 hours.
The charger was only a bit warm during charging. The battery was a little warm too, and produced a little hissing noise during step 6 (reconditioning). Acid fume smell was evident at this step.
The result
After the charging was completed, here is the result: battery voltage: 12.6 volts. It was installed back in the car. The starter cranked but it could not get the engine running. The voltage dropped to a very low 9 volt during cranking. Maybe it's the cell capacity that had been very low. I was somehow dissatisfied due to somewhat high expectation on the battery.
Video on setup, charging, and result
Is it recommended?
Overall, I believe the test shows that the CTEK Charger did its job satisfactorily. Nevertheless, an old, highly used battery with only marginal cell area functioning might not store enough energy for starting. Even when charging result shows significant voltage. There is simply not enough reserve energy to turn the starter motor before engine combustion takes over.
However this charger earns my recommendation. It is very affordable. There are 8 charging steps which include a reconditioning step, and the steps are carried out automatically. It has a reverse polarity protection. The size is small which does not take much storage, even to keep in a car. It is very easy and straightforward to use, there is only one button to deal with. Warranty is good 5 years.
Some points to consider:
The charger decides on its own which steps are necessary and which are skipped. For instance, we cannot specifically make the charger to use the desuplhation (step 1) at will.
The lamps tell which steps that are not necessary and passed, have passed, or in process. The lamps light up for these steps (see picture). Thus the lamp does not indicate that the specific is completed. So when step 4 lamp is lit (in which the battery is ready for use), it means step 3 is completed.
The charger is best for recharging a battery that has drained power when a car has been left off for a significant time but still has enough battery cell capability. For a battery that has depleted along high engine running time, chargers like this might not be quite useful due to already low battery cell storage capability.
Some notes:
No product is perfect though. The charger construction is not as rugged as I expect for workshop use. I would like this charger to have thicker, and longer cables because its cables seem a little thin and flimsy for frequent use.
Some reviews on the internet cite that the charger cannot charge a totally dead (0V) battery. I did not try this one so I cannot confirm it.
CTEK chargers have many models, and they differ by countries. Consumers in US may see a similar charger named CTEK MULTI US 7002 Charger
.
There are also other good brand chargers on the market, such as the NOCO Genius G7200 12V/24V 7.2A UltraSafe Smart Battery Charger
 or Schumacher SC-1200A-CA Battery Charger
. They have about similar functions /steps as the CTEK MXS 5.0 charger. Just choose whatever you consider suitable for your usage.
If you have any comment or suggestions, do not hesitate to leave it in the comment box below.
May this article be helpful for everyone.